10 Dec 2021

The Success Story of UAE We Need to Learn

In mid-November 2021 six of us embarked on a trip to the United Arab Emirates (UAE), to among other things, attend the ongoing world Expo dubbed Dubai Expo 2020. Even though the Expo is taking place from October 2021 through March 2022, it maintained the name Dubai Expo 2020 for reasons of branding. The Expo was actually shifted one year ahead due to the Covid-19 crisis of 2020.
The UAE is one country in the world where developmental changes take place at breathtaking pace. The rulers of these emirates (a federation of seven constituent monarchies of which the most prominent are Dubai and Abu Dhabi) are obsessed with perfection and being number one. If you want to feel and see luxury, UAE is the place to go. Ever heard of a seven star hotel or a police force using super cars? You want to have a feeling of standing on the 124th floor of the 828 meters world's tallest building or having a 38 minutes ride in the world's biggest Ferris wheel? Imagine a city where you spend most of your train commuting time in a pilotless Dubai metro or you go shopping in one of the world's biggest malls containing 1200 shops.
It is hard to convince yourself that you are in a desert when you visit the captivating flowers of the miracle garden. To understand where the UAE was just 50 years ago, spare some time and visit the Dubai Museum and Etihad museum.
Talking specifically of Dubai, she has an estimated population of 3.8 million of UAE's 10million. Only 15% of Dubai's population is made up of indigenes and the rest are foreigners. Asians make up 71% of Dubai with Indians occupying 51% of the population followed by Pakistanis, Bangladeshis and Filipinos. The remaining 14% come from different parts of the world. When in Dubai, you sometimes feel like you are in an Indian city.
Dubai Expo 2020. The first World Expo was held in London in 1851 and since then there have been 34 world Expos held in different countries prior to Dubai World Expo 2020. The world Expos provide a platform in one location where various countries of the world can showcase innovations that have shaped our world or will chart a positive path in the future. Many people, including those who have visited the Expo grounds can't really define what the Expo is. The theme of Dubai Expo 2020 is 'Connecting Minds, Creating the Future'. In addition, there are three sub themes 'Opportunity', 'Mobility' and 'Sustainability'. Dubai Expo 2020 is not a traditional trade fair where goods and services are promoted but an international exposition of knowledge, human ingenuity and diversity.
The site of the Dubai Expo is 4.38 square kilometers and the different pavilions there are a real parade of architectural diversity. All the countries of the world (192) have pavilions there as the UAE opted to build pavilions for those countries which could not afford to do so. The total cost of building the Expo site from the scratch is said to be 6.8 billion USD. Even though I devoted three days averaging 8 hours each to visit the pavilions of different countries, I could barely cover a third of the countries as each country had her own interesting story. I did try to assure some of our brethren from the small Caribbean Islands that it is the goal of all pan Africanists like me to eventually bring all of them back to Africa once we are done with bad governance on the continent. As they could see, the UAE is a visible product of good governance. Imagine what a united resource rich Africa can achieve with good governance.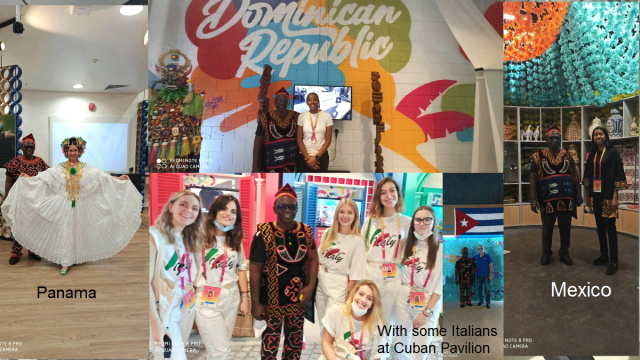 Let's look at the Expo from another perspective (understanding the world). The Island Nation of Nauru is one of the smallest countries present in Dubai. Nauru (population: 11,000), surface area: 21 square kms is about 3000 kms North East of the closest Australian city. Nauru's closest neighbor is another small Island country (Kiribati) which is 300 kms away. One can take a single day on foot to cover the 30 kms circumference of this country. The distance between Dubai and Nauru is 12,200 kms.Many of these Islands are exotic places when you view them from the prism of a tourist. For people who live there permanently, they certainly can't deny the psychological feeling of loneliness and the restrain imposed on their movement by the sea.
Just like Nauru, every single country has a specific story. If you want to see the diversity of humanity, interact and understand their different stories of survival, their innovations, hopes and aspirations, it will be a good idea to visit the Dubai Expo 2020. There is even an Expo passport that is stamped when you visit any country's pavilion.
If I could have the means and time, I will not hesitate to go back there and have a conversation with citizens of the remaining 120 countries whose pavillions I could not visit.

Some links of interest

Inside the Burj al Arab seven star hotel (by Curly Tales Dubai) https://www.youtube.com/watch?v=6HLmG5p1k6g

Dubai's driverless trains (khaleejtimes)

https://www.youtube.com/watch?v=k1p_Wnn_VKE

Dubai's police super cars

https://www.youtube.com/watch?v=8wztx3Xm7OQ

Njei Moses Timah