16 Apr 2023

As an extension of the annual pharmaceutical trade fair 'Pharmagora Plus' held in Paris (March 11th and 12th 2023), 86 pharmacists from Senegal, Mali, Cameroon and Madagascar embarked on a Mediterranean cruise coordinated by Ubipharm (a pharmaceutical wholesale trading company with branches in many countries).
We set sail on an eight day (3400km) circular cruise aboard 'Costa Smeralda' ship which took us from Marseille, France to Barcelona Spain, Palma de Mallorca Spain, Palermo (Sicily) Italy, Civitavechia (Rome) Italy, Savona Italy and back to Marseille.
The cruise ship Costa Smeralda is the sixth largest cruise ship in the world with passenger carrying capacity 0f over 6000 people. It is 20 stories (decks) high with a length of 337 metres.
Barcelona, Spain: Our first stop was at Barcelona Spain where we made a city tour by bus and visited the famous F.C Barcelona stadium complex and Museum. That stadium complex is a money churning machine as it attracts more than 1.5 million visitors annually.
Video Bacerlona stadium: https://www.youtube.com/watch?v=QYvMXMTyY-I
Palma de Mallorca, Spain: Palma is the regional capital of a little known exquisite Spanish Island in the Western Mediterranean. Thousands of boats can be seen anchored on the shores of the island. Many celebrities have homes in this expensive island where real estate prices are roughly 50% higher than the average Spanish rate.
Palermo, Sicily Italy: The 900 kms sail from Mallorca to Sicily encountered some turbulence off the coast of Algiers and Tunis where whistling 70km/hr wind was heard and rocky ship movement felt between 1 am and 3 am. My thoughts went to the thousands of Africans swallowed by this very sea in their attempt to reach Europe on dingy floating devices that are anything but seaworthy. When I stepped my foot on Palermo, I reminded myself that I am in the Mafia capital of the world where 'Cosa Nostra, is invisibly present everywhere.
Video Palermo: https://www.youtube.com/watch?v=-ZuFU8AI1-4
Civitavecchia/Rome: Civitavecchia is a port city where our cruise ship left us to cover the 60 kms by bus to Rome. We used our six hours onshore to visit main touristic sites of Rome including the Vatican and the collosseum.
Video Vatican: https://www.youtube.com/watch?v=kMkXRWmtotU
Video Colosseum: https://www.youtube.com/watch?v=qW3f_B8EoyQ
Savona: Savona was our last Italian port of call before heading to Marseille where our trip began. Savona is 133 km away from the better known wealthy city state of Monaco. The ship usually discharges the tons of used waste in Savona and replenishes here.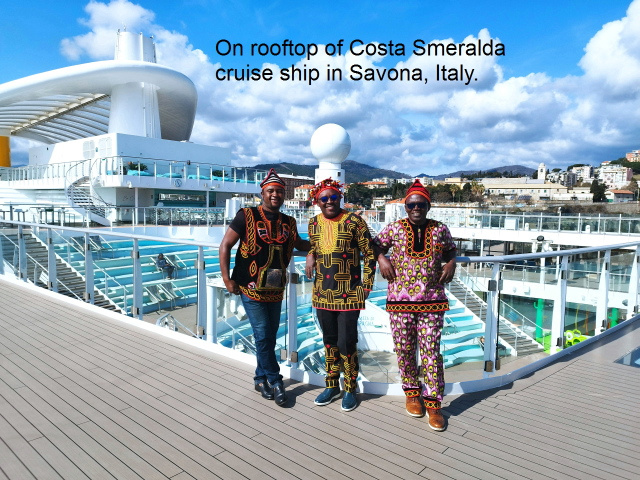 Video Skywalk on Costa Smeralda: https://www.youtube.com/watch?v=jBzUtIuOMGk
Video Savona: https://www.youtube.com/watch?v=veHc0u9iNZA
The cruise trip was an interesting eye opener. It was an opportunity to live in a 'mobile city' at close proximity with thousands of people from different parts of the world. The presence of variety of shops, bars and restaurants, casinos, gym, swimming pools, basketball court, entertainment halls, massage parlors and water sports centers etc ensures the absence of boredom.
Video: Entertainment onboard:https://www.youtube.com/watch?v=ijhENf6nlN8

We eventually returned to a France which was rocked by protest against planned increase of the retirement age.

Njei Timah Moses