6 Nov 2023

Visit to Namibia

Brief History of Namibia

Namibia (pop 2.62m) is one of the most sparsely populated countries in the world given her land area of 824292 square km. Contrast with Nigeria with land area of 923770 square km which holds a population close to 200 million people. Namibia one of the countries from where the earliest human ancestors emerged, was colonized by the Germans and after World War I, was under the League of Nations up to the end of the 2nd World War in 1945. Namibia was thereafter illegally occupied by Apartheid South Africa which not only acted as a de factor Colonial Master but also introduced her system of racial segregation in Namibia.

A decolonization armed struggle led by SWAPO (South West Africa People's Organization) began in 1966 from bases in neighboring Zambia and Angola. One of the reasons Apartheid South Africa (aided by the CIA) invaded Angola in 1975-76 was to install a friendly Jonas Savimbi-led regime in Angola that will deny SWAPO military bases. That invasion proved to be very costly for South Africa and her Western backers as Fidel Castro of Cuba ferried about 30,000 troops from Cuba to back the Angolan government. The South Africans were defeated and Fidel Castro (then Cuban president) gave as pre-condition to pull his troops out of Angola that Namibia be granted independence. Thus Namibia was granted independence in 1990 with Sam Nujoma being her first president and the Cubans left in 1991. Nujoma's tribute to Fidel Castro on this link. https://www.youtube.com/watch?v=zdsOfGN2G_4

The independence of Namibia invariably increased the pressure on the Apartheid regime in South Africa and contributed to the release of Nelson Mandela from prison.

Our journey proper
If there was a direct flight from Douala to Windhoek (Namibia), we should have covered 3067 km but we did cover 7695km by making a stopover in Malabo and changing aircraft in Addis Ababa. That is the story of travel within Africa. One had the impression that he was flying within Europe as the nearly full aircraft with carrying capacity of 250 to 300 passengers heading to Windhoek from Addis was more than 90% occupied by Caucasians.
Namibia is a relatively safe country and a preferred destination for tourists. The number of tourists visiting Namibia this year is projected to exceed 1 million.
We arrived Windhoek Namibia in the afternoon of the 21st October and headed to Sesriem (some 350 km away) where we passed the night at an isolated but magnificent lodge in the desert.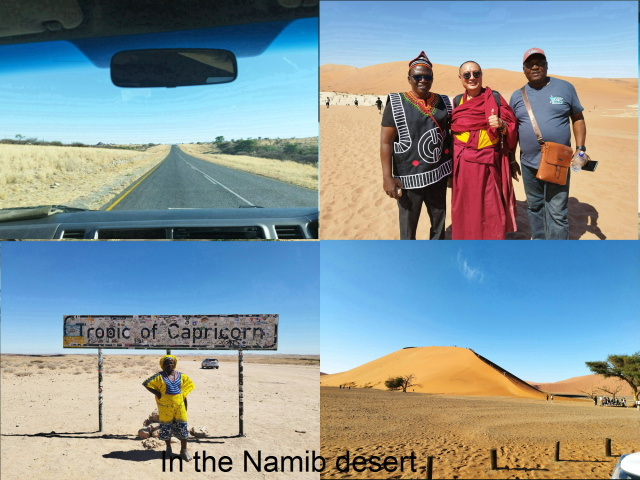 The following day we headed to Sossusvlei (150 km) to practically have a feel of the historic sand dunes and other spectacular geological features of this old desert. The Deadvlei, the 300 m high sand dune called Big Daddy and the Sesriem canyon stood out.
Video: Deadvlei and Big Daddy. https://www.youtube.com/watch?v=sGl0464WZX8
On our third day in Namibia, we left Sesriem for Swakopmund …a journey of 370 km on a lonely road in the Namid desert. We did stop on the way at the tropic of Capricorn and the Kuiseb canyon. Roads in Namibia (both paved and unpaved) are some of the best on the continent. The terrain is generally flat and the roads are mostly straight. The likelihood of falling asleep while driving is real for non-resilient drivers.
Video: typical road in Namibia https://www.youtube.com/watch?v=i46NeMIDcQA
Swakopmund and nearby Walvis Bay are both cities sandwiched between the desert and the Atlantic Ocean. At Walvis Bay we embarked on three hours boat cruise to watch seals and whales in the ocean. It's an exercise that pulls considerable crowds including individuals on solo canoes. We did see a mother whale and her baby.
Video: Whales in Walvis Bay: https://www.youtube.com/watch?v=z25bJVSU0iU
We left Swakopmund for Twyfelfontein, 350km and visited the Bushmen engravings on a rocky hill (some dating between 2000-10000 years). We spent the night at a lodge here and embarked on another long and lonely journey the following day to Etosha (400 km). Etosha National Park (23000 square km) is one of the world's biggest and regularly visited animal sanctuary. On the way to Etosha, we visited a settlement of the Himba people. The Himba said to have originated from Central or West Africa make up less than 2% of Namibia's population. Like the Koma people of Nigeria/Cameroon, the Himba have adamantly maintained their ancient way of life and have rejected modernity.
Video: With Himba lady https://www.youtube.com/shorts/vtAfco6Vcvc
Our two days of stay at Etosha National Park brought us in contact with a variety of wildlife at close range such as Elephants, lions, rhinos, giraffes, zebras, ostriches, antelopes, wildebeests and countless other animals and birds.
We eventually left Etosha on the 8th day back to Windhoek (400km). In all, we covered about 2300km on road in Namibia without crossing any water. It was dry season and rivers here are seasonal. When visiting Namibia, be ready to cover long distances.
At Windhoek, our group was offered a sumptuous buffet at a high end restaurant by a Namibian based Cameroonian couple (Charlie Dallas and wife) on the eve of our departure to Cameroon.

Understanding Namibia

The World Bank classifies Namibia as a higher middle income country with one of the most unequal wealth distributions in the world. White Namibians who make up 6% of the population own 70% of Agricultural land while black Namibians own 16%. Like in neighboring South Africa, land reforms will likely be at the center of future social friction. English is the official language of Namibia and Christianity is the dominant religion. South Africa has much economic influence on Namibia to the extent that the South African Rand is accepted as a legal tender alongside the Namibian dollar. There are roughly 11 ethnic groups in Namibia with the Ovambos making up about half the population. About 50000 Hereros and 10000 Namas were victims of genocide between 1904 and 1907 during German colonial rule. There is an interesting group (6% of pop.) called coloured or Reheboth in Namibia which do not consider themselves white or black. Namibia is one of Africa's most stable and safest country. The people are generally open and friendly. The cities are clean and orderly. The majority of Namibians live in the North and North Eastern part of the country where water is readily available.

Njei Timah Moses