6 Jul 2006

During my recent trip to Nigeria's commercial city of Lagos, I noticed a certain degree of optimism reigning among Nigerians compared to what I observed during my last trip to that country in 2001. For more than two decades now, Nigeria has been suffering from economic crisis mostly attributed to bad governance and corruption. When I talked to ordinary people on the streets, an overwhelming number of them felt that the country was moving in the right direction. "If only the next president will do as Obasanjo, this country will be fine". Said Yekini, a worker at Murtala Mohammed Airport Lagos.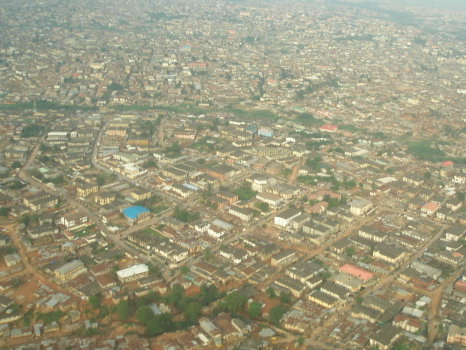 Lagos seen from a landing aircraft (photo:Njei M.T)
President Obasanjo-the country's current president is due to step down next year when his current term ends. During his seven years as president of Africa's most populous country Obasanjo has, albeit with difficulties addressed some of the most nagging problems that have been an impediment to Nigeria's progress. He has freed Nigeria of an asphyxiating external debt that had remained above 30 billion USD for more than two decades. He has tackled corruption (though with limited success), and instilled a degree of discipline in Nigeria. Two women have played an enviable role in helping him shape the destiny of Nigeria. Dr Ngozi Okonjo-Iweala (now foreign minister) negotiated the liquidation of the bulk of Nigeria's external debt when she was finance minister. Professor Dora Akunyili of the National Agency for the Food and Drugs Administration has risked her life (survived assassination attempts) to bring some sanity into a pharmaceutical sector that was rife with counterfeit products and controlled by powerful barons. She launched a bold frontal attack on these drug barons- a thing no Nigerian has attempted before. The actions of these women have had enormous impact on the financial and physical health of ordinary Nigerians. That is why some of them can now look ahead with hope.
One such hopeful Nigerian is Enyioma Ekpebegh. This pretty Lagos based pharmacist in her late thirties is the general manager of Astra-Zeneca Nigeria, a division of Reals Pharmaceuticals Ltd. "There is a perception that the purchasing power of a large percentage of Nigerians is low. My company is involved in the promotion of premium brands". Enyioma said avoiding the word 'expensive' when talking of her highly priced branded products. "I see a very positive future full of prospects. We intend doubling our revenue in three years". She added with an air of confidence. That is the feeling I got when I talked to market women and street hawkers in Lagos. There also seems to be a creeping sense of seriousness affecting most sectors of Nigerian society.
Enyioma: I see a very positive future. (photo: Njei M.T)

When I visited the Law school (where lawyers receive final training before practicing), I could see that seriousness. Punctual and smartly dressed men and women wearing white shirts or blouses over black trousers and skirts were seen signing class attendance sheets minutes before classes resumed. The future of this huge country partly rests on the shoulders of these men and women of the Nigerian judiciary.

Electricity supply has always been a major problem for Nigeria. Nigerian businesses and households rely on stand-by generators to supply electricity when current from the National Electric Power Authority fails. In one night alone I could count up to six interruptions of power supply. From my findings, it is obvious that the Nigerian government has committed so much money to overhaul this sector. According to an article in This Day newspaper of June 30th, work has commenced on 7 new gas fired power stations and 17 major transmission lines. Also 22,000 distribution-line network and 25,000 distribution transformers are coming in. "By 2007 10,000mw will be available for consumption and bright nights shall be ours at last to behold". The article concluded.

Analysts generally agree that Nigeria will make a great leap forward if there is a smooth transition in 2007 and the next president continues with the governance method of Obasanjo or improves on it. For the country to move ahead, a lid has to be placed on radical elements of certain groups and some form of dialogue initiated with their more rational members. I am referring to groups like the Movement for the emancipation of the Niger Delta (Mend), the Movement for the Actualization of the Sovereign State of Biafra (MASSOB) and other extremist ethnic and religious groups that pose a threat to peace and stability.

2007 will be a year to make or mar for Nigeria and indeed her neighbors. If Nigeria were to succeed, dividends from that success will trickle into all countries of the sub-region. If she fails and becomes unstable, anarchy will reign in all neighboring countries. Remember that the population of Nigeria is about the same as that of fourteen of her neighbors stretching from Senegal to Cameroon.

Njei Moses Timah