17 Oct 2017

Echoes from Pharmafrica Expo 2017, Abidjan.

On October 11th 2017, we boarded Air Cote D'Ivoire plane from Douala for a two hour flight to Abidjan to participate in a gathering of pharmacists and allied professionals from over 15 African countries plus France, India, Canada and Spain.

Pharmafrica Expo was the name given to this first ever salon of business, know how, competences and intellectual capital destined for actors in the field of pharmacy, parapharmacy, cosmetics, medicine and traditional medicine. It was meant to examine the current orientation of the pharmacy and allied professions in Africa in general especially Francophone Africa with a nucleus in Abidjan.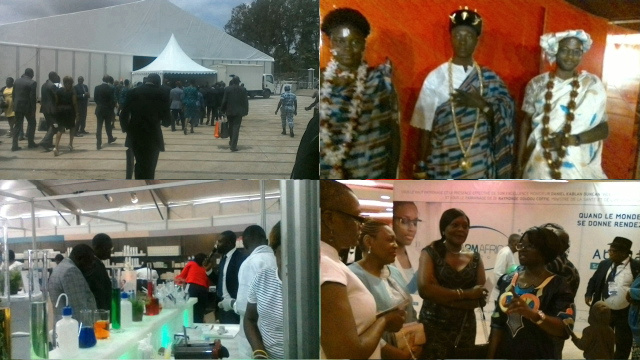 Abidjan is a beautiful city, relatively clean and orderly with no rowdy motorbike taxis that are common in some African cities. No visible scars from the civil conflict that ousted president Gbagbo but the subject of the 'crisis' always get mentioned in discussions.
The Ivorians seem to be making conscientious efforts to move their country forward and there was evidence during this forum that positive actions in different domains are backed with political will from the government. The vice president and the different ministers who were invited did not only address the participants but actually took part in the different discussions including answering all questions from the audience.
Sanofi-led delegation from cameroon at Pharmafrica 2017
As can be seen from the link at the end of this article, Pharmafrica was an all inclusive event that examined the challenges facing the pharmacy and allied professions and tried to come out with solutions to chart the way forward. The forum was organized principally to permit professionals to exchange experiences and be abreast with the latest technological innovations. Topics visited include pharmacy regulations, pharmaceutical industry, distribution innovations, counterfeit medicines, hygiene, traditional medicine, quality control, pharmacovigilance, lifestyle habits and related diseases and access to medicines in Africa. Some participating pharmaceutical companies organized parallel continuing education lectures. We had the privilege to attend the one organized by 'Laboratoire Sanofi' on the rational use of antimicrobial drugs and the growing threat of antimicrobial resistance.
The dynamic Ivorian Minister of Health and Hygiene (Raymonde Goudou Coffie) who happens to be a pharmacist was quite candid to list her achievements and challenges. She mentioned the scorge of counterfeit medicines in Africa as one of the 'mafia' linked problems she says she will solve in Cote d'lvoire.

Before departing from Abidjan, we made a trip to the seaside resort of Grand Bassam-a place that was in the news in March last year when Al-Qaida linked terrorists killed at least 16 people in a surprised gun attack. The place has bounced back to normal life... displaying the type of resilience which victims of terrorism should adopt. We also visited the imposing St Paul Cathedral and the museum of civilisations both in Abidjan. At the museum of civilisations, you get to know the ethno-cultural composition of la Cote d'Ivoire.

We left Abidjan on the 15th with a promise from the organizers that Pharmafrica Expo 2018 will even be more interesting. We can only wish them success.

Link to Pharmafrica Expo 2017 below

https://www.facebook.com/search/top/?q=pharmafrica%20expo%202017

Njei Moses Timah