21 Apr 2022

Visit to Tanzania

Our group of 12 comprising mostly pharmacists and some of their spouses left Douala onboard Ethiopian Airlines on the 2nd of April 2022 for Dar es Salaam via Addis Abbaba. Talking of Ethiopian Airlines, the company has continued to maintain an unassailable lead in Africa with a fleet of both cargo and passenger planes of 130 as of Nov 2021 with 38 new orders awaited.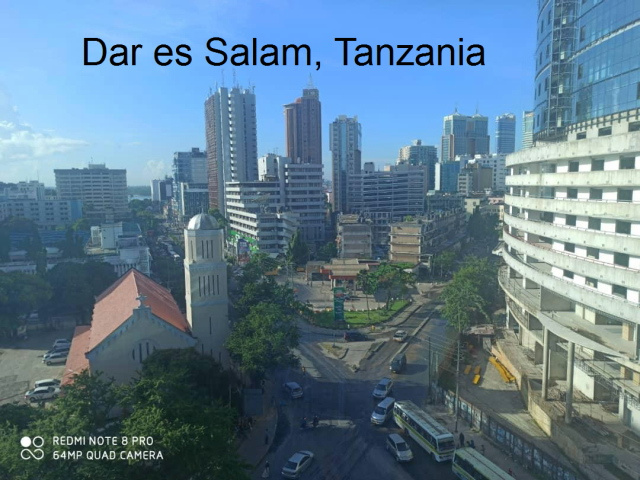 We landed in Dar es Salaam (Tanzania's largest city and commercial hub on the shores of the Indian Ocean) early on April 3 and met with our local tour operator, John Lukiko of Raissa Company Ltd. Tanzania (pop 60 m) has her capital at Dodoma and the official languages of this country are Swahili and English. Tanzania is made up of the mainland and Zanzibar which is an Island about 100 km off in the Indian Ocean. Tanzania is a geographic entity of interest. The highest mountain in Africa (Kilimanjaro) is found there. Also the largest plain in Africa (the 30000 sq km Serengeti that extents into Kenya. Tanzania shares borders with the Indian Ocean, lake Victoria (largest unfrozen lake in the world), the 673 km long lake Tanganyika and the 580 km long lake Malawi. She is host to other big lakes like Ruka, Manyara, Eyasi, Sulunga, and Natron among others. At least 15% of Tanzania is occupied by the 22 national parks of which we visited 2 (Serengeti National Park and Ngorongoro Conservation Area).
Railway Project. As part of our program, we included a learning visit to the Tanzania Standard Gauge Railway project (SGR) which is under construction. Three engineers of the company were assigned to accompany us to explain the 1800km project. It is a huge project with its separate standalone electricity supply. Apart from the local network, the railway will link the neighboring countries of Uganda and Rwanda and eventual extension through them to Burundi and Congo DR as part of the East African Railway Master Plan. Kenya also has a similar Standard gauge railway system and obviously will be competing with Tanzania to woo inland neighbors to use her Mombasa seaport which is not far from Tanzania's Dar es Salam port. It is also worth noting that Tanzania has a single tract (1860 km) long railway since 1975 that links Dar es Salam to Zambia's town of Kapiri Mposhi. The railway was named Uhuru (freedom) because it was built by China, Tanzania and Zambia to free landlocked Zambia from economic dependence on the then white ruled Rhodesia, now Zimbabwe and Apartheid South Africa. Obviously Julius Nyerere was on the driver's seat of this revolutionary project.
Zanzibar. Our next visit was to the Island of Zanzibar which is about 75 minutes by motorized boat from Dar es Salam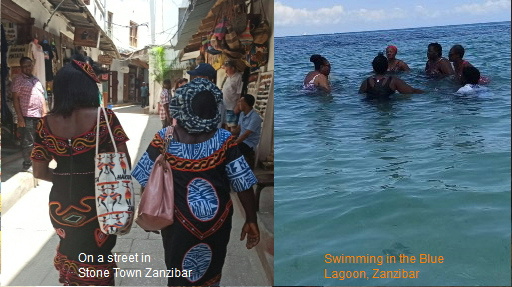 Zanzibar (95% Muslim) formed a federation upon independence with mainland Tanganyika (60% Christian) in the early sixties to become Tanzania. They have managed to maintain the terms of the federation allowing a degree of autonomy to its component parts. Tanzania's current president (Mrs Samia Suluhu) is from Zanzibar and was vice president to the late John Magufuli who was from mainland Tanzania. As per their constitution, if the president is from one of the component part of the federation, the vice must come from the other. Julius Nyerere managed to integrate Tanzania's 120 tribes into a stable united country by ensuring social justice for all and instituting Swahili as a common and official language.
Zanzibar is a popular tourist destination famous for its exotic beaches. We did visit such beaches on the different islets of Zanzibar by boat. It was fun getting close to coral reefs and watching people who are apt at snorkeling swimming in the midst of exotic fishes in the blue lagoon. We also visited Prison Island which is 5.6 kms by boat from Stone town where we lodged. Prison Island is home to Aldabra giant tortoises said to have been brought there from Seychelles in 1919. The island got its name from the time when the place was briefly used to detain rebellious slaves in the 1860s. Recall that Zanzibar has a sordid historical past when the Island was at the epicenter of the heinous Indian Ocean Slave Trade and Stone Town was one of the largest slave markets in the world where Oman played a big role in exporting millions of slaves out of Africa. We did also visit a spice farm in Zanzibar.
Ngorongoro, Serengeti. The last lap of our group visit was to the Ngorongoro Conservation Area and the Serengeti National Park. We took a flight from Dar es Salam to Kilimanjaro and proceeded from there by bus to Arusha. From Arusha, we boarded special park vehicles for the two days exploration of these world renowned wild life sites. Our first site to visit was the Ngorongoro Crater.
A panoramic view of this wild life sanctuary conveys a type of natural beauty that relates to the beginning of time. The steep descent by car into the crater proper is not for the feeble minded.
https://www.youtube.com/watch?v=0DJ3GyNcqfI Descending into the crater
It is easy to underestimate the size of the crater but you will need to cover about 18 kms to go across this 260 sq kilometres flat home to about 25000 different animals. Ngorongoro Crater is a small part of the larger Ngorongoro Conservation Area where wildlife, domestic animals and humans cohabit. I was bemused to see gazelles grazing with sheep belonging to the resident Masai people.
https://www.youtube.com/shorts/KGJPpA41Bw0 Ngorongoro crater zebras
The Ngorongoro Conservation covers an area of 8292 sq kilometres and shares border with the larger (14763 sq kms) Serengeti National park that harbors exclusively wild life.
Serengeti is an endless beautiful plain that is home to over a million assorted wild animals such as lions, rhinos, elephants, buffalos, giraffes, zebras, hippos, leopards, cheetahs, hyenas and wildebeests among others.
https://www.youtube.com/watch?v=8AfESlNiU6Q Animals in Serengeti
You will need to cover a distance of over 150 kms just to go across this flat beautiful savannah that is dotted with acacia plants. We slept in canvas tents in the midst of this wildlife sanctuary for two days and this scared the hell out of many of my travelling pals despite repeated assurances of safety from our local tour operator.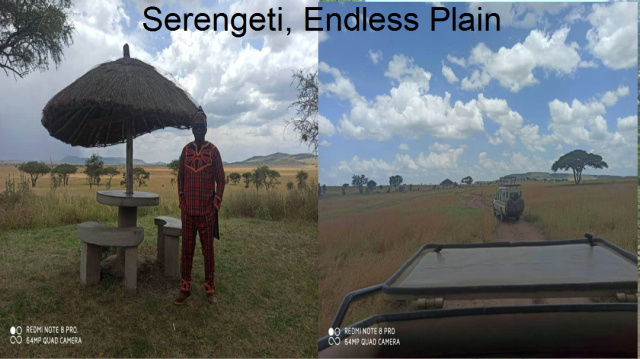 The Serengeti is noted worldwide for the television footages of millions of wild animal migration.
https://www.youtube.com/watch?v=aGNn9vOz-Vo Animal migration video
I separated from my group in Serengeti at the end of our 2 days tour there. While they proceeded to visit a Masai settlement on their way back home through Arusha, I headed for a sort of pilgrimage to the home town and burial site of Nwalimu Julius Nyerere…one of Africa's greatest sons.
Interacting with the Masai people of Tanzania

Related Tanzanian Visits

https://www.njeitimah-outlook.com/articles/article/2076046/195045.htm

Visit to Nyerere Mausoleum, Butiama

https://www.njeitimah-outlook.com/articles/article/2076041/195044.htm

Visit to Mwanza

Njei Moses Timah